Research Summary
Synthetic Alpha-Helical Pores: Engineering, Assembly, and Applications
Protein pores are emerging as promising candidates for synthetic nanobiotechnology applications. Beta barrels and DNA pores have been engineered extensively, but the design and assembly of alpha-helical transmembrane pores are challenging. Fabrication of alpha-helix pores of sophisticated structures that selectively conduct small molecules could lead to a new class of nanopore sensors. Here, simple peptide synthesis allowed us to build structurally stable alpha-helical transmembrane pores of superior chemical tunability, stability, and selectivity, which might be challenging to attain with natural membrane pores.
Our latest research established the construction of the first stable and functional transmembrane pores composed of synthetic D-amino acid peptides.
Our current research targets the therapeutic possibilities of synthetic alpha-helical pores, constructing synthetic ion channels, and developing dimeric nanopores for single molecule sensing studies.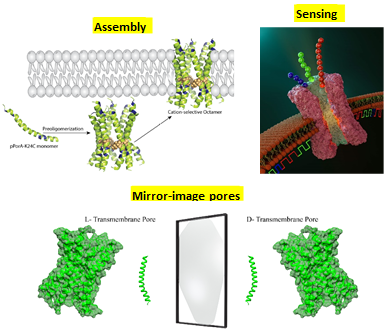 Selected references
Krishnan R.S, K Jana, Shaji AH, KS Nair, AD Das, D Vikraman, H Bajaj, U Kleinekathöfer, Mahendran KR. Assembly of Transmembrane Pores from Mirror-Image Peptides. Nature Communications. 2022. (doi: 10.1038/s41467-022-33155-6)
Krishnan R.S, Puthumadathil N, Shaji AH, Kumar KS, Mohan G, Mahendran KR. Designed alpha-helical barrels for charge-selective peptide translocation. Chemical Science. 2021. (doi: 10.1039/D0SC04856A)
Krishnan R.S, Satheesan R, Puthumadathil N, Kumar KS, Jayasree P, Mahendran KR. Autonomously assembled synthetic transmembrane peptide pores. Journal of the American Chemical Society. 2019. (doi: 10.1021/jacs.8b09973)
Engineered Biological Pores: Biosensing to Nanomedicine
Our research focuses on the molecular basis of substrate translocation across a specialized specific bacterial membrane pore CymA, which has the 15-residue segment inside the pore barrel, restricting its diameter and generating a sophisticated architecture. The intrinsic cation selectivity of the porin, with its peculiar interior geometry, makes CymA an interesting membrane transporter to work with. In our previous study, the potentiality of CymA as complex sugars nanopore sensor is well explored.
Our current research aims to introduce CymA as a target system to develop potential antimicrobial agents against gram-negative pathogens.
Vikraman D, Satheesan R, Kumar KS, Mahendran KR. Nanopore passport control for substrate-specific translocation. ACS Nano. 2020. (doi: 10.1021/acsnano.9b09408)
Vikraman D, Satheesan R, Rajendran M, Kumar N, Johnson JB, Krishnan RS, Mahendran KR*. Selective Translocation of Cyclic Sugars Through Dynamic Bacterial Transporter. ACS Sensors. 2022, 7, 6, 1766-1776.
Remya S, Krishnan R S, Mahendran KR*. Controlling Interactions of Cyclic Oligosaccharides with Hetero-oligomeric Nanopores: Kinetics of Binding and Release at the Single-Molecule Level. Small. 2018. 14 (32), 1801192.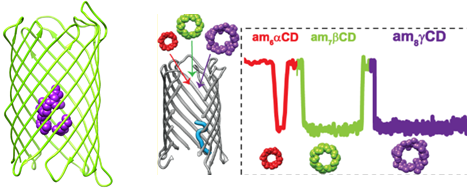 Current Research Grants
The porin passport control for antibiotic translocation: From single-molecule detection to biological relevance.
Department of Biotechnology [DBT]


Engineered alpha-helical pores for single-molecule sensing of amyloid structures.
Department of Science and Technology [SERB]


Structural Assembly of Functional Transmembrane peptide nanopores: From Synthesis to Sensing.
Department of Biotechnology [DBT]


Merck Young Scientist Award (Travel grant)
Merck Life science, India


Structure determination and targeting of ubiquitously expressed membrane integrated form of chloride intracellular channels for discovery of small anti-cancer therapeutics.
Department of Biotechnology [DBT]

Previous/ Completed Research Grants
Single-molecule biosensing with hetero-oligomeric protein nanopores.
Department of Science and Technology [SERB] 2018-2021

Controlled assembly of transmembrane α-helix-barrel pores for single-molecule sensing.
Innovative Young Biotechnologist award, Department of Biotechnology [DBT] 2017-2020

Antibiotic translocation through porins in Gram-positive bacteria at the single-molecule level.
Ramalingaswamy fellowship, Department of Biotechnology [DBT] 2016-2021