Dr. E.V Soniya, Scientist G has been selected by Department of Biotechnology, Government of India for the National Woman Senior Bioscientist Award. The award is in recognition for her lifetime research contributions and their application to society. The award carries a cash prize of Rupees 5 lakhs together with citation and a gold medal. Dr. Soniya has made significant contributions to understanding genomics of susceptibility of pepper to disease and also leads the DNA fingerprinting services. It was under her leadership that RGCB identified all victims of the Ochi cyclone and the Puttingal firework tragedy in record time.
http://dbtindia.gov.in/sites/default/files/Awardees_JA-NWB-2019.pdf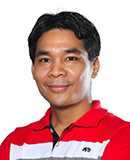 Dr. Rakesh Laishram, Scientist E-II & Wellcome Trust-India Alliance Intermediate Fellow has been awarded the prestigious Swarna Jayanthi Fellowship by the Department of Science & Technology. Under this scheme a selected number of young scientists, with proven track record, are provided special assistance and support to enable them to pursue basic research in frontier areas of science and technology.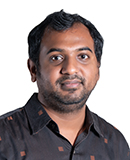 Dr. K R Mahendran, DBT Ramalingaswamy Faculty Fellow has got the Merck Young Scientist Award in Biological Science.The award carries a cash prize of Rupees 2 lakhs together with travel grant of Rupees 1.5 Lakhs.
Professor M. Radhakrishna Pillai, Director of Rajiv Gandhi Centre for Biotechnology (RGCB) has been selected for Sun Pharma Research Award 2019 in Medical Sciences. The Sun Pharma Research Awards are for excellence in original research work in Medical and Pharmaceutical Sciences by Indian Scientists working in India and abroad. The award carries a Trophy, Citation and a Cash Prize of Rs.250000/- (Rupees two lakh fifty thousand).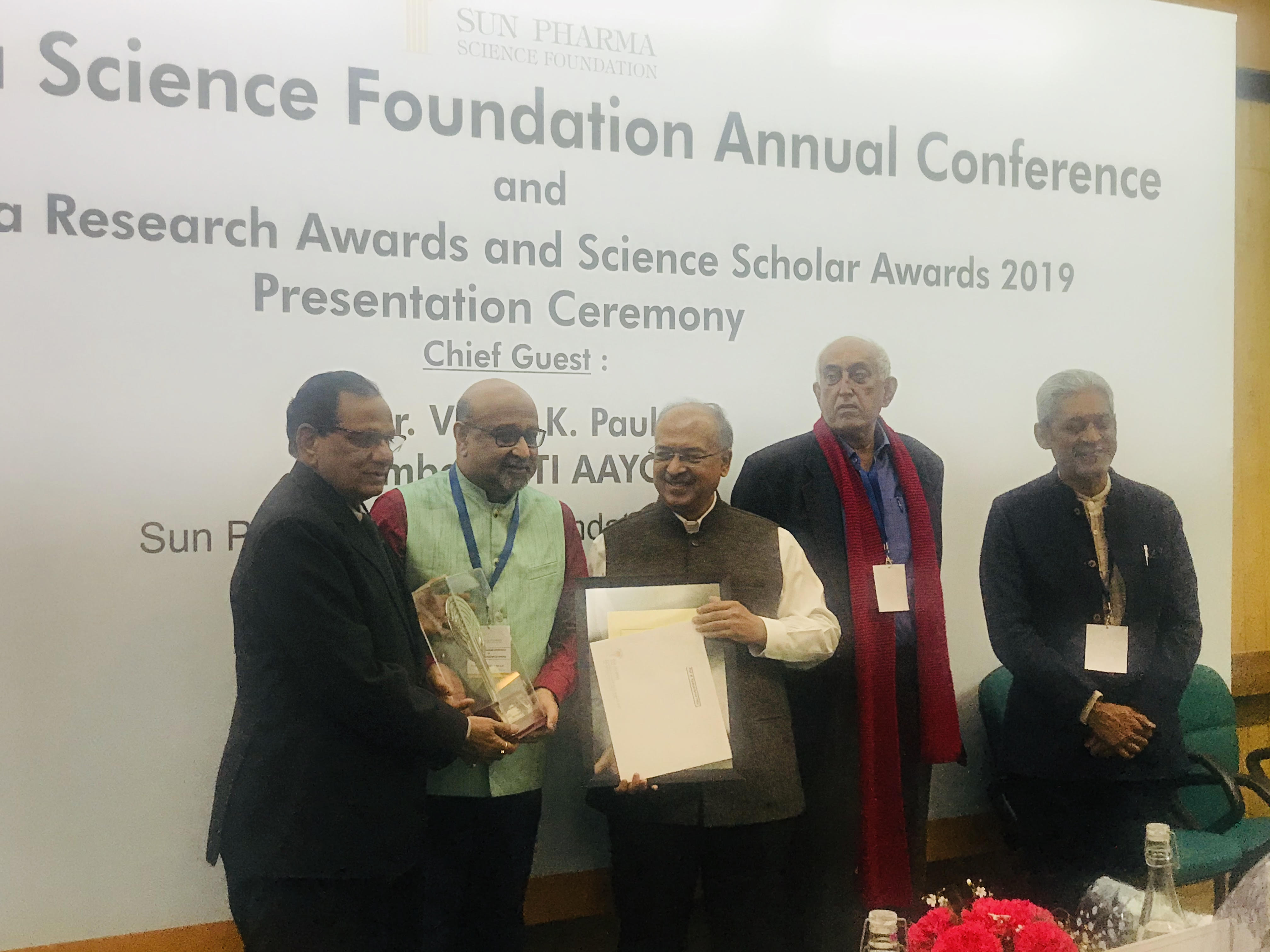 11.07.2019
Why bother with a master's degree? Across India, the post-graduate course has earned a slightly odd reputation. It's the scholar's stepping stone to a doctorate. It's lucrative in a handful of streams like business and development studies. But for much else it's seen as dated and out of touch with the job market.
Now, niche, post-graduate courses are fighting back. They offer interdisciplinary studies and specialisations in new domains that might help you get hired or get ahead. Industry professionals are included as faculty, and the curriculum is geared to provide hands-on experience. These are making a master's in law, arts, data analytics, data science and information technology (IT) especially productive.
The Sciences get a Boost
Rajiv Gandhi Centre for Biotechnology (RGCB) recently launched its first masters programme with a specialisation in disease biology. The institute's director M Radhakrishna Pillai says most pharma, bio-pharma and biotech industries are typically unwilling to hire masters' level students. "The companies have to invest at least two years to get them job-ready," he says.
At the institute, most master's students "come from colleges and institutes that teach in an old fashioned way, with no access to modern technology," he says. They're not prepared for the research-oriented programme and the chance to work with India's top scientists.
So at RGCB, students actually work in the labs for their MSc programme. There's a large diagnostics facility for infectious diseases and a DNA fingerprinting facility. The institute's business-development incubator, BioNest, in Kochi, has 26 start-up companies and students intern with them. "There is high demand especially in the health industry, for trained people to work in advanced clinical diagnostics labs in the hospitals. And that is exactly what we are providing," he says.
J Irene Infancy, a first year student specialising in molecular diagnostics and DNA profiling says the facilities are a boon. "Not many institutes in India offer specialisation courses in biotechnology. It's one of the main reasons I chose to study here," she says. "The MSc biotechnology course has increased my scientific temperament and critical thinking."
19.08.2019
Rajiv Gandhi Centre for Biotechnology (RGCB) is all set to offer a new Masters programme in Biotechnology that is said to be the sole postgraduate programme in the country that allows students the opportunity to choose among three specialisations - disease biology, molecular plant sciences, and molecular diagnostics and DNA profiling.
It was the only standalone Masters programme offered by the Regional Centre for Biotechnology (RCB), Faridabad, through (RGCB), Sudhanshu Vrati, executive director of the RCB said. Forty-one students have been enrolled for the first batch of the programme from over 700 applicants from across the country.
Launching the programme here on Saturday, Renu Swarup, Secretary, Department of Biotechnology, said the country currently focussed on working with global partnerships in emerging technologies in the biotechnology sector. Besides developing a conducive ecosystem for biotech start-ups, the department was supporting human resource development programmes such as the Star College scheme to support colleges and universities in improving science education across the country. Around 180 colleges had been brought under the ambit of the programme. Similar schemes were in place at levels including in postgraduation and research. Dr. Swarup added that the department was well ahead on its path to turn the biotechnology sector into a $100-billion industry by 2025 in line with the National Biotechnology Development Strategy 2015-20. B. Anand, Additional Secretary, Department of Biotechnology; RGCB Director M. Radhakrishna Pillai; and RGCB MSc programme course coordinator Debasree Dutta also spoke on the occasion.
20.05.2019
The current global resurgence in measles is having its resonance in Kerala too, which has been witnessing a serious surge in the disease since January. Across the globe, huge local outbreaks have been caused by travel as well as the increase in unvaccinated populations. In Kerala, however, majority of the cases are reported from Thiruvananthapuram, which has good vaccination coverage and amongst people who are well-nourished and have received at least one dose of vaccine in their lifetime.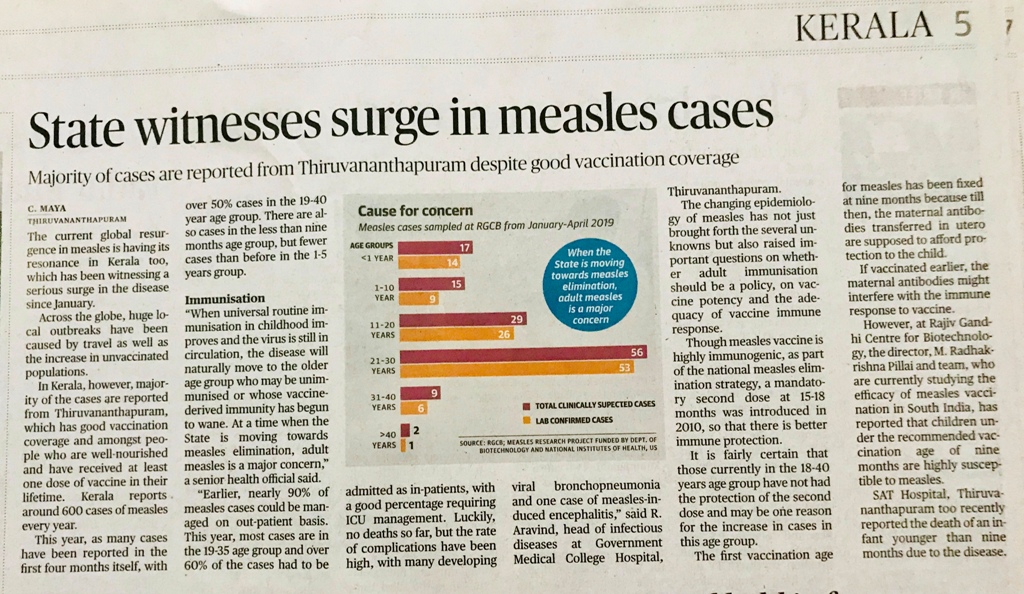 08.01.2019
Chief Minister Pinarayi Vijayan will inaugurate India's largest innovation hub, Integrated Startup Complex, at Kalamassery in Kochi, on January 13, which promises to provide top-quality infrastructure for incubation and acceleration.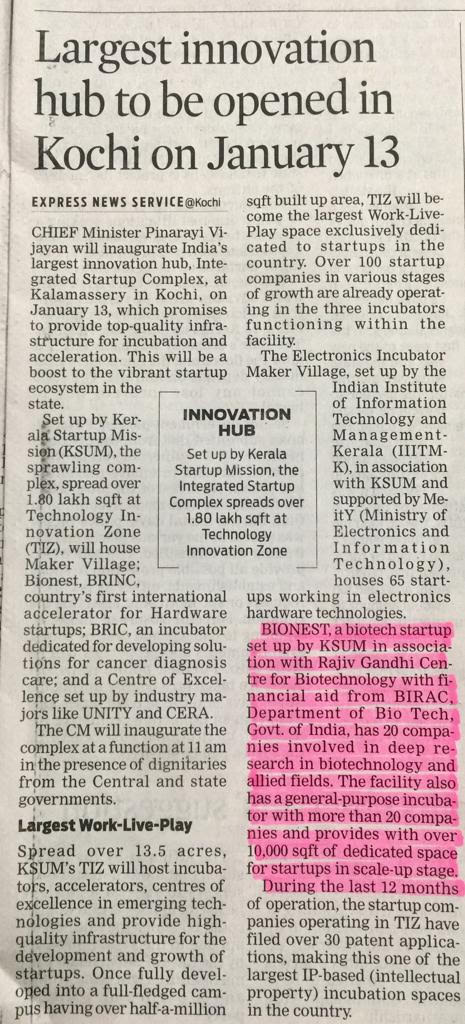 19.12.2018
DNA profiling may be a contentious issue among humans, but for Kerala's captive elephants, it's a done deal. In a first for India, every one of Kerala's captive elephants now has a unique DNA-based genetic ID. M. Radhakrishna Pillai, Director, Rajiv Gandhi Centre for Biotechnology (RGCB), which was given the task of DNA fingerprinting the elephants, handed over the DNA database, prototypes of Unique Identification Cards, and a study report to the Forest Department's Chief Wildlife Warden P.C. Kesavan on Tuesday.
This website belongs to Rajiv Gandhi Centre for Biotechnology (RGCB), Department of Biotechnology, Government of India. ©2019 All Right Reserved by RGCB