Research Summary
Broadly, research interest of my laboratory is to understand genomic instability and DNA repair defects in the context of tumor initiation, development, and therapy. Everyday we are exposed to copious amount of external and internal agents that cause different types of damage to our DNA (≈ 70,000 lesions/cell/day). Several well-established DNA repair and damage tolerance pathways can fix most of these, correctly. If remain unrepaired, either cells die or accumulate mutations that can cause cancer. Therefore, precise DNA repair mechanism is a tumor suppressor process, and responsible for the maintenance of our genomic integrity. Using modern biochemical, and genetic engineering tools and techniques, we are addressing,
Question 1. How commonly mutated tumor suppressor PTEN modulates DNA damage response and induces genomic instability in cancers?
Question 2. Do cancers with higher rate of genomic instability depend on tumor suppressor PTEN for their therapeutic outcome?
Question 3. Do secretory vesicles from cancer cells modulate DNA damage response to their neighbor?
Research Programs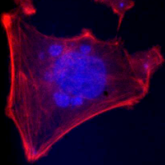 In this project we will ask, how PTEN (phosphatase and tensin homolog deleted on chromosome 10), a key tumor suppressor checks cancer development by its noncanonical nuclear functions in endometrial adenocarcinoma, a common gynecological tumor. We hypothesized that loss of nuclear PTEN from the endometrial epithelium could induce defective DNA damage response (DDR) that may be associated with tumor development.
Current Research Grants
Ramalingaswami Re-entry Fellowship
Department of Biotechnology [DBT]


Domain-specific role of tumor suppressor PTEN in genomic stability: A systematic approach.
Science and Engineering Research Board [DST-SERB]