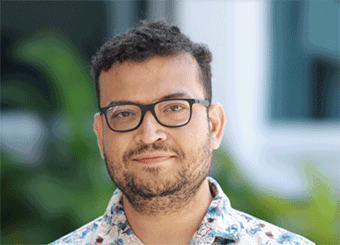 Profile
The ability to resolve how different nanoparticle (NP)-properties affect cellular interactions is critical for understanding nanoconstructs' design-activity-relationships, which can open important avenues in anti-cancer and immunotherapy research. Questions like 1) Which NP-shape is most efficient in finding specific receptors on cell-membrane and why? 2) What NP-surface ligand density is optimal for an efficient targeted interaction? 3) What aspects in nanoconstruct-designs can ensure successful endosomal escapes? etc., require more information at the single NP level. Our lab focuses on 1) Designing nanoconstructs for therapeutic and/or imaging applications. 2) Probing of single nanoconstruct-cell interaction in real-time. 3) Establishing ingenious strategies for in situ identification of different nanoconstruct-designs for high-throughput screening.
Academic Positions
Scientist C

Rajiv Gandhi Centre for Biotechnology

Postdoctoral Research Fellow

Stanford University, Stanford, California, USA

Postdoctoral Research Fellow

Northwestern University, Evanston, Illinois, USA
Education
Tata Institute of Fundamental Research (TIFR)

Indian Institute of Technology- Kharagpur

BSc Chemistry (Honours)

2007
Awards
2021

2020

Travel Award by Biophysical Society.

2016

"TIFR Alumni Association Chemistry Award" (Best Thesis Award).

2014

Best Poster Prize, FCS 2014, Indian Institute of Science, Education and Research, Pune (IISER Pune), India.

2014

International Travel Award by Biophysical Society.

2014

International Travel Award by Government of India, Ministry of Science and Technology, Department of Science and Technology.

2010-2014

Demonstrator and trainer in all the "Fluorescence Correlation Spectroscopy" workshops between 2010 to 2014.

2007

Radha Binod Das Merit Scholarship for securing top position amongst all form of sciences during bachelor degree in college.