Biotechnology Skill Development Program in Molecular Diagnostics and Next Generation Sequencing: January 2023 (Six months)
Program Period:
August 17, 2023 - January 17, 2024
Application opens
: July 10, 2023
Last date of application
: August 10, 2023
Date of commencement of Training Program
: August 17, 2023
Download Brochure here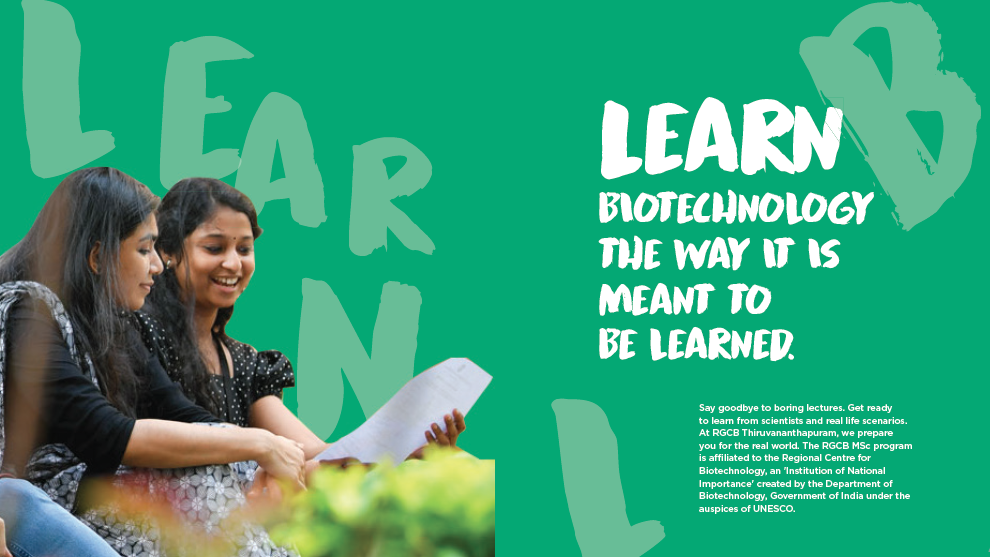 Rajiv Gandhi Centre for Biotechnology runs a six-month biotechnology skill development program (BSDP) for graduates in the faculty of engineering, medicine and biological sciences. The rationale behind skills development program is to impart intensive knowledge relevant to the present industrial needs within a short period of six months to bridge the gap between the industry and academia, thereby generating immediately employable work force. The Biotechnology and Pharmaceutical industry have immense potential in the coming years and needs a large number of trained graduates and post-graduates, who are familiar with the industrial needs, which sadly the academia fails to provide, in the current educational setting. The program thus aims to equip aspirants to meet present day requirements of the biotechnology and pharmaceutical industry by providing skilled personnel with hands on experience in various facets of molecular diagnostics and next generation sequencing. The module is of six month duration and is "study and hands on" intensive.
Rajiv Gandhi Centre for Biotechnology (RGCB) invites application for admission to the Biotechnology Skill Development Program (BSDP) in Molecular Diagnostics and Next Generation Sequencing
Eligibility
First Class B.Tech or M.Tech in Biotechnology, MBBS or BVSc, M.Sc (Biotechnology or Life Science) or MD or MVSc from any recognized University.
Admission Procedure
Application should be submitted online.
Incomplete applications are liable to be rejected.
Selection will be based on first come first placement mode.
20 candidates will be admitted every 6 months for the program.
A course completion certificate will be issued on successful completion of the tenure and final assessment aggregate grades will be included in the certificate.
Contact Us
Dr Radhakrishnan Nair R
Scientist F
Head, Laboratory Medicine and Molecular Diagnostics
Rajiv Gandhi Bio innovation Centre
KINFRA Film and Video Park,
Near Sainik School
Chantavila , Kazhakuttom
Thiruvananthapuram
+91-471-2781212, +919495414391, +918281865811
radhakrishnan@rgcb.res.in, lmmd@rgcb.res.in