Research Summary
Metastasis or the spread of cancer from the primary site to other parts of the body is a silent killer in breast cancer, with 80% mortality rate for women with metastatic disease. Key questions that need to be dealt with include heterogeneity and a detailed understanding of the cells critical for actual metastatic establishment. Therapeutic targeting of metastasis requires a deeper understanding of the metastatic process and our work will directly address key challenges in the field.
Hypothesis
Comprehending the cell intrinsic mechanisms that allow a tumour cell to survive, remain in a state of dormancy and then thrive in a hostile new environment of a distant metastatic organ is vital. In addition, analyzing the role of the extracellular environment in supporting metastatic cells is key to giving us a complete picture of the metastatic process. The hypothesis underpinning the work in my laboratory is that breast cancer cells form metastases utilizing a combination of cell autonomous ('intrinsic') programs and microenvironmental ('extrinsic') changes. This work has implications for conceptually understanding the critical molecules involved in the metastatic process and identifying its "Achilles' heel", which can be exploited for therapeutic purposes.
Research Programs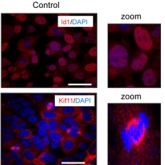 The main aim of this work is to delineate the key molecular players involved in the cell autonomous control of metastatic cells. We will use a 'pipeline' of technologies to make fundamental discoveries in breast cancer molecular etiology, and then test their relevance in sophisticated in vitro and in vivo models of human disease.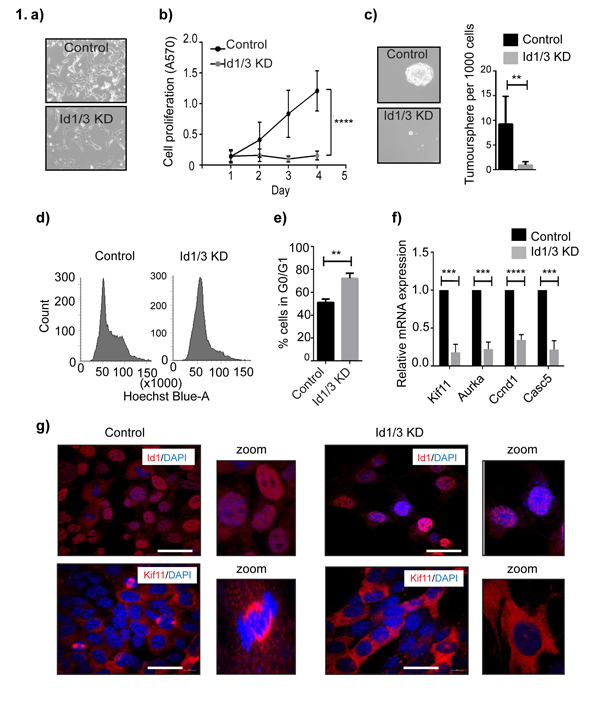 Fig1. Id1/3 is a critical regulator of self-renewal and proliferation in breast cancer cells. Id1/3 knockdown significantly affected the (a) morphology of 4T1 tumor cells (10x magnification) and (b) proliferation as measured by MTT assay. (c) Tumor sphere assay showing a significant reduction in self-renewal ability in Id1/3 knockdown cells compared to control. (d) Flow cytometric analysis after labeling with Hoechst 33342 stain revealed a G0/G1 arrest in Id1/3 KD cells. (e) Percentage cell count in G0/G1 phase in control and Id1/3 knockdown cells. (f) The relative mRNA expression level of important cell cycle genes analyzed by qRT-PCR. Kif11, AurKA, Ccnd1, Casc5 levels are significantly reduced after Id1/3 knockdown. (g) Immunofluorescence staining reveals non-dividing phenotype in Id1/3 knock down tumor cells (20x magnification)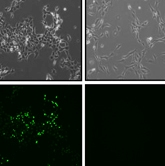 The importance of the microenvironment in cancer progression and metastasis is being increasingly recognized. A critical component is to establish the identity of the metastasis associated stromal (MAS) cell required for the establishment of the metastatic niche. This will be further leveraged to identify molecular pathways in the extracellular environment critical for the establishment of dormancy and metastasis.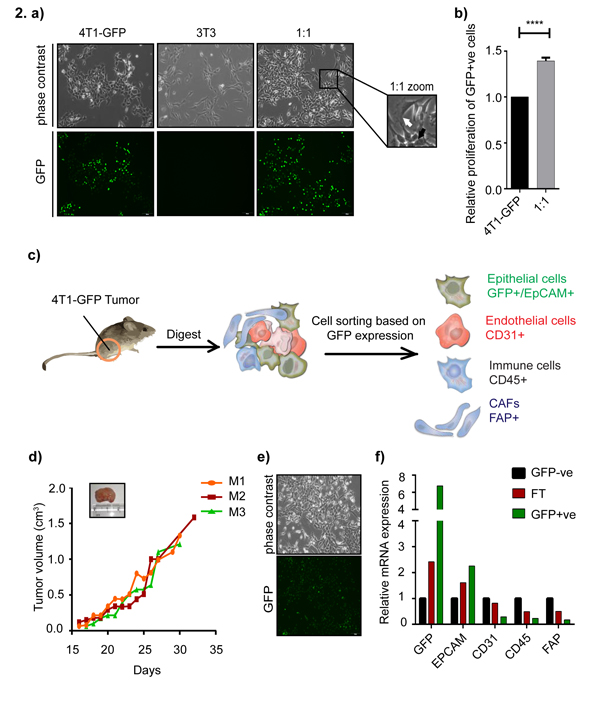 Fig.2 Understanding the tumor-microenvironment interaction (a) Direct co-culture of 4T1-GFP cells with 3T3 cells. 4T1-GFP tumor and 3T3fibroblasts were cultured alone as well as in 1:1 ratio for 48 hours. Phase contrast and fluorescence microscopy images (10x) showing the direct co-culture of 4T1-GFP and 3T3 cells. White arrow shows fibroblast cell and black arrow shows 4T1-GFP tumor cell. (b) Tumor and fibroblast cells were co-cultured for 48 hours and the relative increase in GFP+ve cells were analyzed using flow cytometry. (c) Schematic showing the isolation of epithelial and stromal cell populations from 4T1-GFP tumor based on GFP expression. The various stromal cell populations can be identified based on the expression of lineage markers. (d) Growth kinetics of 4T1-GFP tumors in vivo. 4T1-GFP cells were injected orthotopically into the mammary fat pad of 6 week old female Balb/c mice and tumor size were measured. (e) Phase contrast and fluorescence microscopy images (20x) showing a heterogenous mixture of tumor and stromal cells. (f) Validation of tumor epithelial and stromal fractions after sorting based on GFP expression. The expression of GFP and lineage specific markers were analyzed via qRT-PCR. Lineage markers used include EPCAM for the epithelial cell population, CD31 for the endothelial population, CD45 marks immune cells and FAP is used to identify fibroblasts.
Current Research Grants
Ramanujan Fellowship
Department of Science & Technology [DST]


ECR grant
Department of Science & Technology [DST]